IRI is hosting an information day on the « Collective Awareness Platforms for Sustainability and Social Innovation » (CAPS) initiative, which will be launched under objective 5.5 within call 10 of the ICT workprogramme 2013 (deadline for proposal submission: 15/1/2013).
In the wake of the crisis there is now the chance to harness the Internet for solving large-scale problems in Europe by harnessing social innovation. Hosted by l'Institut de recherche et d'innovation, will feature a number of speakers such as Bernard Stiegler (IRI) on how public markets can help Europe create a revolutionary programme of knowledge studies, and Philippe Aigrain (La Quadrature du Net) on the ACTA mobilization and the future of copyright in Europe. The European Commission is funding up to 15 million euros for collective awareness platforms, and a representative from the Commission will be on hand to explain the programme and listen to pitches for future work.
The information day is open to anyone free of charge upon registration.
What the day will achieve:
Get first-hand information on the call from the European Commission
Develop and publicly discuss ideas and proposals, including from well-known keynote speakers
Find contacts with other institutions, disciplines and sectors
Presentations, starting at 10:00, include an overview of the call by Fabrizio Sestini, EU Scientific Officer, followed by keynote talks from:
Bernard Stiegler, IRI
Philippe Aigrain, Quadrature du Net
Harry Halpin, W3C
After lunch, participants are invited to an open forum to develop and discuss ideas and proposals in areas of interest related to this call. The day will close at 17:00.
Participants will have the opportunity to make a five minute/three slide presentation and contribute to the start of the discussion. The presentations will then be uploaded on the event web page.
Program:
9:30-09:45 Coffee/juice and registration
9:45-10:00 Introduction by Harry Halpin
10:00-11:00 Introductory keynote bu Bernard Stiegler
11:00-12:00 CAPS presentation by Fabrizio Sestini
12:00-13:00 Lunch
13:00-13:45 Panel on building a social innovation ecosystem in France (Romain Lacombe, Gael Musquet & Louis Montagne)
13:45-14:30 First round of presentations*
14:30-15:00 Coffee break
15:00-15:45 Second round of presentations*
15:45-16:30 Ending keynote by Philippe Aigrain
16:30-17:00 Open discussion
Please send pitches (1-3 slides) to hhalpin@w3.org and kat@voxe.org by October 11th.
Presentations by:
Robert Jäschke - L3S
Vincent Puig - IRI
Marc-Arthur Gauthey - Cup of Teach
Vincent Ricordeau - Kisskissbankbank
Frédéric Mazzella - Blablacar
Camilla Burg - Wiser.org
Frédéric Chomé – Factor-X
Deborah Elalouf - Tralalere
Pirjo Friedrich - VTT Technical Research Centre of Finland
John Sutcliffe-Brathwait - Metaloger Technologies
Clément Alteresco - Bureauxapartager
Olivier Creiche - Zilok Auto
Benjamin Augros – Pretachanger
Anne-Alice Fievet – Makesense
Coralie Marin - La Ruche qui dit Oui
Antonin Léonard - Ouishare
Benjamin des Gachons – Change.org
Gaël Musquet - Open Street Map
Etienne Zoupic Hayem - Community Forge
Edouard Schlumberger - Voxe.org
Ruxandra Creosteanu - Babele
Florian Hervéou - Tuttivox
David Crombie - HKU
Eric Nicolas Schneider - Youth-Leader
Benjamin Augros - Pretachanger
Théo Bondolfi - Meta CAPS Cluster
The conference will be held in English at the Centre Pompidou, Salle Triangle (to right of main entrance, next to large red cube outside of building) :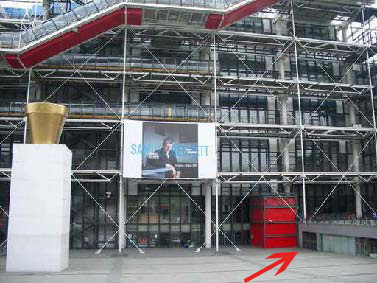 Lunch will not be provided at the information day. There are however many restaurant options surrounding the Centre Pompidou that you can go to during the 1-hour break.
If you plan to be in Paris for the night after this infoday, MetaCAPS invites you to a CAPS infoday after hours cocktail to celebrate the launching of the metaCAPS website, and socialize between project holders @CAPS. MetaCAPS is an innovative mechanism that aims to overcome the divide between competition and cooperation through a coopetitive response to this call CAPS (FP7 5.5.). The event will take place at Atelier de Rochas, 14 rue des Volontaires 75015 Paris.
Mots-clés
Powered by